Traditional Thai Massage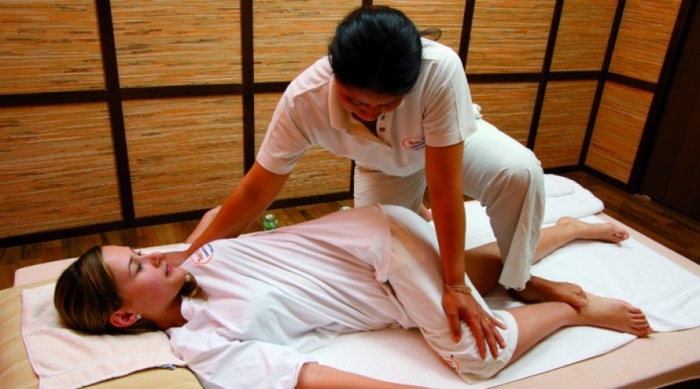 Make a Booking
Aromathai Spa
2 Elms Square
Bury New Rd
Whitefield
Manchester
M45 7SZ
About
Traditional Thai ( No oil, yoga style – stretching massage )
Traditional Thai Massage is a 2500-year-old technique for relaxing the body and quietening the mind. It can help to relieve many physical problems such as back pain, tense shoulders and neck, stiffness, poor posture, indigestion and sciatica as well as more mental problems like stress and lethargy. The basic form of the massage is performed fully clothed (no oils are used). The technique involves putting gentle but firm pressure on the body with the palms and thumbs, as well as relaxing stretching of the limbs and back. In this way it works effectively on skin, muscle, the organs and the skeletal structure. Blood and lymph circulation is increased and waste substances are removed from tissues. Very strong, please note, we cannot massage you if you are pregnant.
Reviews
Very impressed with the clean premises and the high professional standard of service I received from Rita. I felt wonderfully invigorated afterwards. Will definitely return soon.
-DB
Just awesome, not for the weak it's a tough love treatment but totally worth it and I felt AMAZING afterwards, Sukanya did a really good job and made my 1st time rememberable
-AW
Visited this spa with my daughter and we had a couple massage it was fantastic and the girls were very good. One of the best massages I have ever head and would not hesitate to return.
-LO
Aromathai Spa is a little Jem in the centre of Whitefield, this place is a must for everyone who loves a massage. The girls are very professional friendly and polite and very strong. The girls ask how much pressure you like before massage begins and will adjust accordingly throughout the massage, the rooms are very clean with a very relaxing atmosphere, all in all this place is a must for anyone with aches and pains or who just loves a relaxing massage, i am making it my once a month treat.
-AP