Thai Oil Massage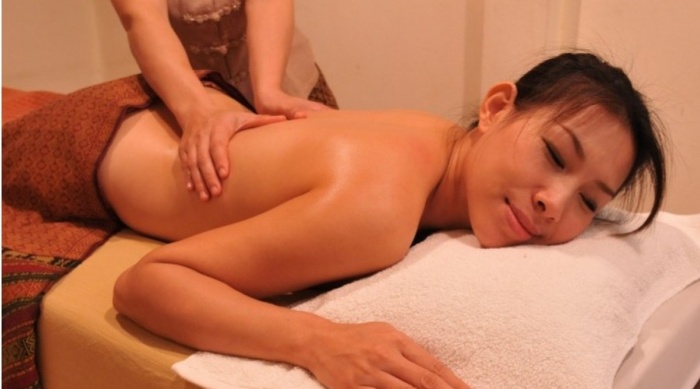 Make a Booking
Aromathai Spa
2 Elms Square
Bury New Rd
Whitefield
Manchester
M45 7SZ
About
The Thai oil massage involves deep, firm pressure and rolling and stretching movements using palms, thumbs, elbows and knees and the application of aromatic oils. An invigorating, rhythmic massage, it follows the style of traditional Thai massage. We start with a fiveteen minute's full body warm up session using Thai Traditional techniques, this relieves tension without oil. After the warm up we use oil on your whole body to relax the muscle, you will be required to remove your outer clothing. This massage is adapted perfectly for the western environment and is usually performed on a table. Please ensure that you are wearing suitable undergarments to avoid unnecessary embarrassment., Medium-Hard pressure, please note, we cannot massage you if you are pregnant.
Reviews
First time visiting aromathaispa and this will now be my monthly treat to self , although my next visit is in 2 weeks time . I had a Thai oil massage and the only negative from it, for me , is that the hour went by too quick . Don't ponder it , book it
-D
Third time I've been to this Spa, I really needed it today. Rita was amazing!!, I suffer with a bad back and felt amazing after!, Rita took care of my needs and I will definitely want her to carry out my next massage. I booked my partner in tonight I felt so good afterwards, I wanted him to feel the benefit. Thanks again Rita 😊
-PB
This place is always great. However, today was exceptional. Thanks to Paulina for the best massage to date! Much appreciated 👍
-P
The most fabulous Thai oil massage! Been a few times and this place is amazing. Massage incredible and the staff lovely. Highly recommended. Booked again before I left.
-M
Best massage I ever had . Room is quiet and relaxing. 100% recommended. Service start excellent from reception to masseuse. Thanks so much. Soon will be a member.
-R
Amazing hands! Been having massages here with Tigist and Vicky for over a year. No where better. Perfect!
-JJ
I've just had the best massage ever. Aromathai Spa is a wonderful sanctuary in the middle of Whitefield. The reception staff are friendly and extremely helpful and I cannot speak highly enough about my massage therapist Vicky. I've already booked in again and can't wait to go back.
-M
I visit this place pretty regularly and the service and experience is always very good. However, my visit today was nothing short of exceptional, thanks to Noy for the best massage I have received to date.
-P
I had my very first Thai massage today with Tigist. A very nice experience, I would certainly recommend Aeromathai spa for their services. I felt much more relaxed after massage.
-KP
Had a 2hr Thai Oil Massage today by Oa. I've had many Thai massages in the UK and Thailand but this must rank as one of the very best. Oa knew exactly what she was doing and gave me an absolutely fantastic deep tissue massage.
-T
Absolutely amazing massage. This is my second one and I have made a booking for my next. The girls are really strong and give a good solid massage, using fragrant oils to help relax and calm you. I would definitely recommend this place and this massage to anyone who really needs to get the stress and knots out of them. Compliments also to the reception staff who was very polite and attentive.
-P
Absolutely fantastic!!!! Will defiantly be booking again
-M
Just had an amazing Thai oil massage and would like to say best I ever had. I will be booking again soon
-M
My third visit to have a Thai oil massage and by far the best and most professional I have had. This establishment stands above many I have been to and I will be visiting it a lot more, the staff are charming and polite and know their job well. On this latest visit I was with POR (PUCHARAPORN AQUINO, is her full name) a beautiful petite lady but with a lot of strength in her hands, I felt "a million dollars" after and very relaxed.
-D
Best Thai massage outside of Thailand! Been visiting this spa for a few years now and they never disappoint. The staff are welcoming, friendly and professional; the environment is very relaxing and the prices are competitive. Just about to make yet another booking now.
-M
Nice and clean salon, recently refurbished. Been going to this salon when it first opened its doors in Whitefield. A genuine salon with good friendly staff and good massage techniques. Like being in Thai Land again! Would highly recommend.
-K