Back Neck & Shoulder Massage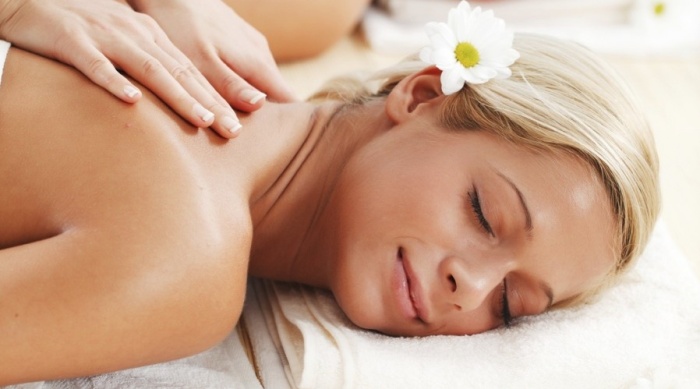 Make a Booking
Aromathai Spa
2 Elms Square
Bury New Rd
Whitefield
Manchester
M45 7SZ
About
The back, neck and shoulder is a firm massage and focuses on built-up stress and muscle tension in all areas around the neck, shoulder and across the back. This massage alleviates stress, improves circulation and posture, relaxes muscles and improves flexibility, relieves tension headaches, strengthens the immune system and helps decrease feelings of depression. We start with a ten minute's full body warm up session to relieve tension without oil, then we will concentrate on the back and shoulder and finishing with neck with oil, this massage will make you feel completely relaxed and greatly reduce muscle tension. The aim is to provide the most appropriate massage for each client's needs to ensure total relaxation during the back, neck and shoulder massage and to ensure you leave the salon feeling lighter and a lot more mobile, please note, we cannot massage you if you are pregnant.
Reviews
Had problems with muscles either side of spine had one hour deep massage and left feeling absolutely brilliant . Be back in 2 weeks..Well done highly recommended
-A
Amazing intense massage with Rita, she really helped with my very, tense back, neck and shoulders, I would highly recommend
-GC
Tanya is an amazing therapist. She really helped my back issue. She also put up with my outcries of pain as she started to move 13 years with of tension through DTM. She is very knowledgeable and I already have some movement back after 1 session Will be going again Thank you Tanya you are amazing xx
-JM
First time here, what an amazing experience! Treatment rooms were decorated beautifully. Very relaxing atmosphere. Da was very experienced and professional. I will definitely be booking a monthly massage here. Highly recommended!
-L
First visit and definitely won't be my last! I had a wonderful experience here and will definitely be recommending it to all of my family and friends. I cannot wait to book in for my next visit. Thank you !!
-SG
Me and my boyfriend both had the neck, back and shoulder massages and they also cracked our backs at the end. Both left feeling amazing and like we had new backs. Staff were really helpful and the treatment rooms were really nice
-KS
Just had a wonderful massage with Vicky booked again.
-D
First time here and WOW what a massage!! really tense and lots of knots in my shoulder and back but she did an excellent job!! booked back in for two weeks time and it will be a regular thing cant rate it enough feel a new women :)
-K
I get a one hour back and shoulder massage once a month at Aromathai. Every appointment leaves me feeling like a new woman. The staff are always polite, welcoming and friendly and the spa itself is immaculate but relaxing. The massage itself is always fantastic and the massage therapists always take into account your preferences and focus on any problematic areas!
-JB
The spa is beautiful and spotless and the ladies are very friendly and professional. I suffer with very stiff shoulders and upper back and get pins and needles running down my arms in bed at night. The massage I receive is very firm and I can feel all the nodules and tension being worked away, my sleep that night was 100% better. I use to go to a chiropractor and pay the same amount for 10 minutes now I get an hours massage plus all the cracks and tweeks, I would highly recommend this spa.
-C
I had my first massage today with a lady called "O". A very nice experience, I needed the massage due to experiencing tension headaches. Afterwards I felt much more relaxed and the tension had completely gone in my neck. Hopefully this is something I can continue every other week. Worth every penny!
-Z
Had the most fabulous therapy, I went in with a headache and aching muscles, came out feeling great.
-J
Excellent massage,couldn't fault the service or trestment i'll be going regular from now on,my back and shoulders feel great thankyou!
-L
Visited Aromathai spa on 23rd January 2017 managed to get an appointment very quickly. On arrival I was greeted by a gentleman who was very welcoming and polite, the spa itself was absolutely beautiful and spotless inside. The massage I received was second to none, the therapist was quite strong and firm and worked out all my knots, I could feel the knots being worked out, the room was very relaxing. I would recommend this spa to anybody looking to ease their sore back.
-S
I've had lots of massages and treatments over the years but this was by far the BEST massage I've had...walked in full of pain and knots in my back and shoulders and walked out with a spring in my step. Joy my therapist was medium/firm and she literally got every knot out of every muscle in my whole body. Inside is lovely and clean and smells of amazing oils, very friendly staff and I've already booked in for a couples massage and will be a regular.
-O
This place is great, very relaxed atmosphere and the staff are very polite. It is now in my routine, 5 star.
-GC
Wonderful massage slightly heavy but you can tell them to be lighter. Wonderful atmosphere and decor. Shoes are removed and fresh slippers offered. Water offered. Just simply the best
-M
Have been here a couple of times now and come out relaxed and soothed, all knots in my shoulders gone, very well priced and will be back
-B